Fab 5 Freddy
By Troy L. Smith Winter of 2005
Where were you born and raised ?
Bedford Stuyvasent section of Brooklyn. I went to John Dewey H.S. I always like to point out early in my serious interviews that my dad was best friends with Max Roach who's also my godfather.
O.k. the jazz drummer!
Right, he was one of the architects of Bee bop. So my dad was a big part of that scene coming up, and that had a big effect on me because it was played and discussed often as I grew up.
What type of effect, did you also think about playing an instrument?
No, well maybe when I was really young I thought about playing drums for a short while, but I had extremely intelligent black men around me all the time. That would include my dad and his friends he grew up with, and that was right here in Brooklyn, right in the middle of the Bee Bop scene. They continuously discussed what was going on with black people and politics around the world. They were aware and attuned to everything happening with us as a people. Culturally they were sharpening the cutting edge in jazz like we were in hip hop but they didn't have the ability to tell their story, nor make videos, movies or write those books to put the right faces in the right places.
So did Miles Davies, Coltrane, Bird or any of those guys also come around the house as well?
Miles use to come around before I was born. Thelonius Monk was a good friend of my dad as was Randy Weston. Willie Jones, a
bebop drummer and local activist was at my house often when I was a kid. It was a whole bunch of these cats. Basically what I remember was the music playing all the time was just all the conversations, the arguments and the discussions about us as a people. What was going on culturally, musically and creatively. They always talked about the struggle in the 60's and 70's that were being waged; you know these guys were at the front lines.
My dad marched on Washington for Kings famous speech and he was at the Audubon when Malcolm X was shot and killed. My father is 83 now with various health issues, but thank God he is holding on strong. My father was not a musician, but an accountant, a business guy. But he grew up a part of that whole brain trust, sensibility, with lots of black awareness. They were young black men very attuned to their time. As a young kid that was my back drop that I grew up against.
Let me cut in for a minute, how did you feel about Sonny Carson and the Tomahawks and all the gangs around there. Being as you were around all that positive influence in your house, how close was all that other stuff, which was the flip side of the coin?
That's what was going on then when I was a young teen and I was right in the middle of all that. The unique thing about the way I came up was I had really intellectually hip parents and surroundings. But my parents let me run with who ever I wanted to run with, they weren't the corny type of middle class black family….. see we were home owners in Bed Stuy. Other home owners wouldn't let their kids play with the ghetto kids I ran with.
For sure, you right!
But they let me run with everybody.
But why, what was their thought? Did they school you before you went outside the door?
I would get schooled, but during those early days when other kids could stay out all night I had to be in by 1:00 am or something like that there. While I lived at home, there was always some type of rules. I just couldn't do what ever I wanted to do. But I could do a lot more than the cats whose family's owned homes and couldn't leave the front of their house. During that time I ran with a click called the Hell Cat's, and we ran Bed Stuy at the time. I became an active part of that. I can say I ran with the best of the worst in Bed Stuy at that time.
Actually we were the 113 Hell Cats, the junior division. This was the early mid 70's type thing. There were gangs in the Bronx and gangs in Brooklyn, the Tomahawks were the most ruthless. We were kind of like brother clubs with them. We could go to Brownsville and hang with them at spots they had, and it was peace. I met Kato back then and Akbar, you know what I am saying. He played himself in "The Education Of Sonny Carson" movie. We had a few run ins with some rivals, cats out of Fort Greene and what ever. But it never got the way it was in the Bronx. Like we would hear about those cats and see those images, the Spades, the Skulls all the ruthless gangs up there, we never got that ill in BK but we did have rumbles and things would get ugly.
But the Tomahawks were that ruthless?
Ah man the Tomahawks were legendary, Brownsville still is like the roughest part of Brooklyn. A lot more of black Brooklyn used to be completely buck wild, Brownsville & East New York is probably the only area still holding it down like the old days because so much has changed every where else in BK. The group M.O.P. encapsulates that energy better then anybody in terms of articulating what that is, and was. But Bed Stuy always had a rough image. But for the most part it's a community made up of brownstones with families that still live in them. We always pictured Harlem cats as the slicker, flyer cats, but Brooklyn was the home of the stick up kid back then. And we mastered the knuckle game, that 52 blocks hand-to-hand fighting style before the big guns hit the streets in the 80's.
So what made you slide away from that and head uptown towards the museums?
Well I had a head on my shoulders, and I was always thinking. So when I played hooky it wasn't always at hooky parties with the girls, I went on adventures. I got the subway map and I would plan out trips to the museums around the city or ride to end of the A train line, or this, that and the third. During that period in the 70's I noticed graffiti getting heavy on the trains. I saw names and numbers and I was getting curious. As I got further uptown I saw more tags on the walls of the train stations. After awhile I just wanted to know who these people were. Who started it, who was really doing it and who was the best at it, as well as what were they doing with it. Which lead me all the way uptown towards Washington heights and Dykman street. Names I noticed were, Frank 207, SJK 171, Turok 171, and numerous other cats. So as I figured out what it was, I bought that back to Bed Stuy, and started tagging up my name, and became the cat that was writing Bull 99. I was tight with a brother name Herb and he became 99 also. He ran with me and the Hell Cats. The high school John Dewey that I was going to was by Coney Island and the train yards…
So you went bombing?
Yes! I went bombing hard, taking spray paint out of metal and wood shop in High school and doing my thing thing on trains near my school that went all over Brooklyn and Manhattan, and cats would see it and it kind of increased my status as the one that was putting the clicks name out there. At the same time while all that was going on, disco parties and jams were happening in the streets. The era of the Disco D.J's was happening. Guys like DJ Grand Master Flowers, Plumber, Maboya and Pete D.J. Jones were legends at that time. So we would hear these names and I was too young to go to those parties, but I had older relatives that went. I saw the flyers and I heard their names.
I would also see some of these cats names tagged up on walls. Like Flowers and his man Dice. I began to put two and two together that this graffiti thing is some real hot shit. Cats from Brooklyn had their names all over, like all the popular intersections and places where people were going, whether its downtown Brooklyn, Fulton street, Albee square Mall, Flatbush avenue, in all the popular train stations I would see these cats names. I said this is something I really wanted to be heavily involved with. But at the same time I was at these parties in the parks with these d.j.s and they would bring their equipment out in the summer time to places like Reese Beach in the 70's, and then I got to see Pete d.j. Jones and the rest. They were like Gods in the community, Rock Stars. They inspired other guys to get DJ sets. Frankie D, Master D and other started to get popular in Bed-Stuy. These guys would do the Disco thing, but occasionally they began to try to scratch records a little bit, and play music that I never heard any where before.
I got really curious about this music, break beats, and I would go up to the D.J. by navigating through the party people, hard rocks and killers in Bed Stuy and get behind the rope, and get in the d.j.s ear to ask questions. And they began to tell me that the new sound was coming from uptown, Harlem and the Bronx. They started to mention guys like Flash, Theodore, DJ Hollywood and Bambaataa. So I would once again get real curious and be like an explorer and get on the train and ride up to Harlem and places like that with my crew. We would walk around the streets and try and to find a jam in the parks, you know trying to hear sound systems, to see if anybody was out doing it. We found a couple that were alright but I eventually got some tapes from my man Lee, Lee Quiniones.
Right.
That's when I linked up with him and became a member of the Fab 5. When I met up with him I also for the first time heard Grand Master Flash at the Smith projects downtown on the lower east side of Manhattan where Lee lived. This was when it was Four MC's with him. Rahiem, the 5th member hadn't joined yet. That was when I first got a taste, a taste of the bass.
Right, right, exactly. Now what about the Fab 5 how did you actually meet these guys?
I met Lee, I seen his work and he was a master of the game. I was also starting to think about making moves to penetrate the art world. I had discovered pop art while going to museums. I got familiar with some of these artists and did some studying and realized that pop art and graffiti were coming from the same place.
Pop art is?
Pop art is popular culture. Pop art took a lot of their imagery from things in popular culture. Like Andy Warhol painted the Campbell soup cans. Roy Lichtenstein based his art on a certain comic book style. He would blow the little dots up bigger. They were called Ben Day dots. Others were basically taking common newspaper and magazine headlines and popular products, and famous faces and just making fine art out of that. Hence the term popular art or pop art. I saw graffiti being inspired by the same thing; you know comic books, advertising. You know what I am saying? I mean as it developed into a defined form of making art. I saw these same color combinations on the Flash comic book covers, or Superman comic books, you know what I am saying?
I began to see like a connection also between the art, the graffiti, the energy, the spirit and where it was coming from, and what the d.j.s and rappers were doing. Like "let's reinvent our selves in these fantasy's super hero pop culture images. Let's make our selves these characters we dream about. Like hey I'm Flash, I'm the fastest, you know? I'm Super so and so, I'm cool this; I'm hot that, you know what I mean?" (He starts laughing.) A lot of that all started to flow around in my head. I developed these theories that all these elements of our urban culture were beginning to seem like one big thing. This is in 1978.
While I was thinking about all this, and studying art history and what art is "supposed to be", I basically realized that the best ART is a reflection of the people in the times that they live in, and you could connect it to a broader situation in the popular culture. I thought graffiti was doing that, and then I saw the early hip hop music was doing that, so I had all these complex ghetto theoretical idea's jumping around in my mind and I'm sure I'm right. (Fred starts laughing.) So I thought why not? The other ingredient that inspired me was this thing called punk rock, which was developing at the time.
I started seeing the articles about people in England with mad safety pins in their ripped up pants and shirts. Some of the biggest bands were the Sex Pistols, The Clash, Blondie and the Ramon's. Some of these guys were talking about they really didn't know how to play their instruments, and they had just learned how to play or they really didn't know how to play. They were being very rebellious and getting all this attention in the media, so I decided to go to this place called CBGB's where punk rock was happening here in NYC and make some moves.
This amazes me because at that time of your life you were jumping from so many different extremes, especially to land on this Punk Rock thing. And this is no knock just very interesting.
Well I was very curious and I am not trying to say I was a big rock and roll fan and s---…..
…..No I hear you, but just the idea of going from hard core hip hop to this type of music, because that was the farthest thing from my mind, because we was like that s--- was crazy. So what I am saying is that you were more open minded, to that sound which is a good thing.
I hear you but I have to say it is from me growing up as a child and being exposed to so many different combinations and from hearing about the influence jazz had on the culture. Then I am seeing this new revolutionary thing happen in music called punk rock, with these radical looking white boys with the chopped up spike hair…
…right.
Spitting at each other, s--- was crazy buck wild with them white punk rockers. So I started thinking is there some type of connection between that and this hip hop energy? On the surface it could be hard for some to see. But when I went to CBGB's the first thing that hit me was there were graffiti tags everywhere in that club. CBGB's was almost like being in an abandoned building that lots of writers had tagged up. I'm seeing the names of bands written everywhere. It had a raw dingy vibe. I was seeing the connections. Not like beat for beat, but it was that rebel attitude thing.
What year was that when you walked in to CBGB's and seen that on the walls?
Like 1978 and I feel like a black secret agent on a mission.
O.K., so that is some what similar to the Disco Fever with the crews up on the walls also.
I hadn't been to the Fever at that time yet. This is in terms of the vibe and the attitude and them taking the music to the streets and it was still rough, rugged and raw at the time.
You know what's crazy about that time, as violent as that was a person didn't care he would rather be there to experience that music, that hip hop and all that sound, but knowing that at any minute a mother f------ will bust off or something like that..
…exactly…
…or get robbed..
(Fred starts laughing.)
But that was the farthest thing from my mind. I'd be like "yo, I just want to hear this sound", "I want to see how they perform because I keep hearing them on the tapes and now I want to see how they do it."
Exactly, I hadn't heard too many uptown tapes, I didn't know, but I had a sense that there was something similar in the foundation in where these things were coming from. I hadn't really connected with any real players from the scene at that time but I felt like I was on the right track in terms of a synergy culturally, if you will. Like a rebelliousness at the core.
I feel what you're saying.
I saw a big underlying connection. With the graffiti it was like, "I don't give a f--- I am writing my name wherever I think I should write it, and I don't give a f--- what any body thinks." That was underneath it all, you know what I mean? Cats coming out with their sound systems, and jigga, jigga, jigga, (making the sound of scratching.) on the record. Breaking into the street light to plug in and just give these outlaw parties. It just seemed like there was something very similar in these initial energies of where this s--- was coming from, punk rock & hip hop.
Now bust this, what made you go to the next level and start going to The Garage to see Larry Levan and these guys?
Well that was again something else that was going on. Believe it or not I had already made my connections now with key players on the down town punk rock new wave scene. I connected with this guy named Glenn O'Brien, who had been down with Andy Warhol, and was writing for and had been the original editor for Andy Warhol's Interview Magazine. He was a fan of all kinds of music, in fact I learned a lot about black music from him. In his column he would write about everything from George Clinton's P-Funk to Bob Marley and early dance hall reggae artist like Dillinger and Big Youth as well as punk and new wave.
He only wrote about what he liked and wrote about it in such descriptive terms, it made me go "damn he put it down in a way that made me want to hear all this music as opposed to a critic that is criticizing". He would basically big up what he liked and put it in a way that you can understand it. So I met this cat and he became like a mentor to me. I told him what I was thinking and feeling about punk and hip hop at the time and the moves I was trying to make and he was with the program! He later became key because he had a TV show called TV party which was a public access cable show, which you can now buy on DVD. It was real arty and crazy.
So when I got cool with Glenn I kicked my ideas and about graffiti, rapping and scratching and this breaking and how I saw it kind of connecting to this punk rock energy. He completely got it. He said "you are absolutely right." At the same time you have to remember every single train, subway station and bus was soaked with graffiti. The city was spending 10 million dollars a year going to war against graffiti. Back then it was the scourge of the city, and nobody at that time was seeing it as this beautifully developed art form that it now is. But with my new downtown friends embracing me and my message and ideas, I became that link and they opened their eyes and arms. Glenn told me he was about to start a public access cable show, and I am like 18, 19 yrs at the time and I'm like "hey I want to get down." He said "what do you want to do?" "I said I want to work the cameras." He said I didn't have any experience, but he still wanted me to hang out and be down. I said o.k. So at the first show one of the guys who was supposed to work the camera got high and never showed up, so he looked at me and said "hey Fred get on the camera."
So I became the camera man on the show and a regular guest. Also, this is when I became tight with Jean Michelle Basquiat, who was doing "Samo" tags in the village and Soho at the time. Like me, he was from Brooklyn and my age. When I met him he had a blond Mohawk with about seven six inch dreads, which freaked out a lot of people at the time.
Was he already established as an artist when you met him?
Nah he was the come up like me. Like I said he was tagging Samo on the streets and theses short like poems when I met him. He was a starving artist, crashing on friends' couches in the East Village trying to figure it out, just like I was. We came together and started to vibe. He heard about me and I heard about him, and we just started building on stuff. We became kindred spirits, generals in the game. We had similar ideas, and he like me had spent time in museums as a growing kid and got hip to art history and also liked Warhol, Jasper Johns and other pop and abstract expressionist artists. But he didn't know anything about this rap thing. I played my old school party tapes and let him listen to "Super Sperm, Apache and other songs, schooling him and he was feeling it all.
Let me ask you, do you think that movie they did about him was very accurate?
The cat Glenn O'Brien was the one that put the movie together, and came up with the concept and wrote the script. I was now moving in the same circles. Glenn was the leader, well not the leader but one of the main cultural cats on the downtown scene. He was part of what some would call the downtown Literati. That's also how I met Blondie and the rest of the punk new wave people. I got to meet and kick it with all these people coming to his TV show. After taping the show we would all go and hang out at the Mudd Club and other hot downtown clubs at the time like Danceteria and the Peppermint Lounge. Amongst all these radical musicians' artist and film makers, I was that graffiti dude who knew about this new rap thing going on in the Bronx, which at the time of course was a mystery to them. I would be explaining what was jumping off uptown with Flash, Cold Crush, Fantastic and all that.
So you started getting up town by this time?
I had been going a little more, I got a little more knowledgeable. I got some uptown party tapes. Lee had cats in the L.E.S. with some hip hop party tapes also. I remember one hot Funky 4 tape with them on the echo and all that. While all that was going on I'm making my moves on the art world.
You're not even going home any more, are you? Did you start living in Manhattan by that time? (Troy starts laughing.)
Naw, I'm still going home to Bed Stuy. I'm still getting on that A train to Utica or Kingston & Troop. I wanted to have my own crib but my paper wasn't right.
How did you hook up with Charlie Ahearn?
Well as I became a fixture in this downtown underground New York scene I met Charlie Ahearn. I met him at an art show in 1980 in Times Square called the "Times Square Show". These downtown artists took over a former massage parlor which basically was another name for whore house back then.
That's right. (We both start laughing.)
They turned it into a free for all art show where you literally could have walked in off the street and just put your art work right on the wall, or ceiling!
What street was this?
… I think it was 40th street and 6th avenue.
That's over by Bryant Park and the library.
Not far from the library, exactly. Like about 70 artists are in this group show with all kinds of cool and wild art.
Is that spot still there today?
No, it's long gone, but it's well documented in mad books and all about the art scene in the 80's. I mean, that show was the jump off.
How long did it last?
The show was up for a couple of months and was on the cover of the Village Voice as the first radical art show of the 80's. We painted a Fab 5 piece on the outside of the building. Me and Lee Quinones did this together and had two of my paintings hanging in the show. Long after it was over, that piece outside stayed.
This show is where I met Charlie Ahearn and I told him I wanted to make a movie about this new thing bubbling in the black and latin NYC ghettos uptown. Basically I was telling him about rap music, DJ's, graffiti, and break dancing. That they were like all one thing in a way coming from the same place, the same vibe but nobody then was seeing it as all being connected. Charlie was feeling my ideas and we got serious, and began to plan the film that would become the earliest look at all of this, WILD STYLE!
…right…
Graffiti was a multi borough, city wide multi ethnic thing. Hip hop as music, the rapping, and scratching, was pretty much a Harlem and Bronx thing. There were some cats in Brooklyn f------ with it. There were some cats in Queens. But in terms of the n------ that really wrote the rules, it was up in Harlem and the Bronx. Mainly the BX you know what I am saying? Once again I seen this as one thing, so I thought if this was all put in a movie, we can connect it all together with a story to basically show people that it is one thing. And keep in mind that no one really called it hip hop either. It was just a party, or a jam. I wanted to show that it was a very strong culture, a powerful force. I wanted this film to highlight that. I originally wanted to co write, co direct and all that. But I was doing my art world-painting thing at the time, which now was starting to bubble because the east village art scene is starting to happen as we're developing the movie and I'm selling paintings at the FUN gallery. Like me, Jean Michel Basquiat, Keith Harring, Kenny Sharf, Futura 2000, and a bunch of us that kind of met hanging around trying to be visual artistes and making art. That was beginning to happen, little rinky-dink art shows were starting to go down. A little bit of chump change was starting to flow for us.
How long did it take to put the film together?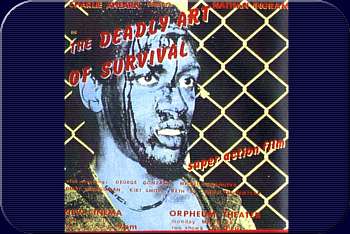 Well I used to see the poster for this movie up in the lower east side when I would be chillin with Lee mapping out these moves I thought we should make. Lee said he knew about this dude, he said the guy with the blood on his face was a local kung fu teacher; named Nathan Ingram who was like a 10th degree black belt. He was a bouncer down town for many major clubs during that time. I haven't seen him in years. But he became one of the first major black body guards on the club scene because he was the nicest guy, but he could put in lethal work if you got out of hand. Any way Charlie made this lil movie featuring him in a classic kung fu story, his school versus another school but on some NYC ghetto shit.
Right.
But the poster for the movie caught my eye, and it made me feel like that's that real underground independent movie vibe I felt we needed. So once again, when I meet Charlie he is feeling my ideas. So we start to go to these parties uptown. That's when I start to go to the T- Connection, Celebrity Club, Ecstasy Garage, Disco Fever, the whole 9. The first party we went to together was at a park called the Valley.
O.k., up there in Co-op city the Bronx!
Right, Busy Bee, Funky 4 + one more, and the rest are doing their thing thing to a big crowd. So we meet them, and Charlie is like your all American very nice white guy. He was such a stick out sore thumb in the crowd. (Fred is laughing in kindness.) And you know, the game was real grimy back then with stick up kids and dust heads and just plain ill violent heads in the mix. I used to always think to myself, "I just hope nothing goes down". But I guess bottom line, because Charlie's got such a good heart, and he is such a good dude, everybody we would meet would end up really liking him. And of course many would think, "who in the world is this white dude coming up to these ghetto hood parties and taking this so serious?" And who is this black dude with him?
This is the beginning of the research that leads to the screenplay for Wild Style. So we are meeting the key players. And I'm feeling it, meeting these cats. I'm talking about, Flash and the Furious, Busy, DJ A.J., Love Bug Star Ski, Lil Rodney C and the Funky 4, Bambattaa. We going to this party, that party, it was a beautiful thing. Charlie and I would take slides of everything we were doing. He made hundreds of slides and everyone, wanted to have their picture taken. People we got tight with like AJ and the Cold Crush, asked Charlie to show the slides at their show. It got so ghetto that cats was putting his name on the flyer. They started calling him Charlie video.Camcorders hadn't really become popular but they put it on the flyer like he was shooting a video, but they were slides and people loved it.
(Troy starts laughing.)
They would see their face and say, "N----- I'm in a video!" So they started putting "Charlie Video" on the flyers and we would set up these little slide shows at the Ecstasy Garage and other spots.
Right, when the music was being played.
Yeah, and MC's like Busy B would be shouting out the people in the photos like they shout out people at a party.
So now were you originally supposed to make the movie about the Funky 4?
I am going to get into all that. You know how Busy-B's personality is so happy go lucky and fun? We met Busy first at that first Valley jam. We also met Little Rodney C from the Funky 4. Busy B always says Charlie and me together looked like a black & white undercover cop team. And when he was hanging with us he thought he looked like the snitch! You know you probably never seen this, or I should say a select few have seen it. We filmed a party at the Celebrity club in like 1980. It actually was an MC battle but on the tape we said it was a convention. The party was like unbelievable, I know you got a lot of party tapes but if you saw this video, it would be one of the jewels of your collection, because we caught on film a lot of the best emcees at that time. Caz solo, J.D.L. solo….
I got that video….
Huh?
I have an 18 minute video of j.d.l., K.G., Caz and they all solo.
The Love Bug, Star Ski?
Yeah Star Ski is d.j.ing and some other no name cats.
Where did you get that?
It's out there, but very few people have it, but I have it.
Good, good I am glad. That's some s--- Charlie and me did.
But let me tell you this, I told Moe I had it, and Kool Moe Dee lost his mind because he was supposed to go last, I think. You see Moe walking by in his shades, but he never gets on, he said a fight broke out. In fact Caz is on there with a burgundy old style Pittsburgh Pirate hat, and a burgundy mock neck shirt.
Right, a burgundy mock neck shirt, and burgundy hat. You are right, a fight did break out, and Casanova's went off. A stampede occurred.
Moe D said that was the day he was going to take out Busy Bee. See Caz was hot at the time but he wasn't as hot as Busy that night. Although Caz killed it doing that singing type routine to "Ain't no stopping us now." But Moe was plo
tting to get Busy that night.
That is incredible that you said that, damn, I got a chill up my spine. You're lucky to have that because we were going to release that with the re-issue of the Wild Style DVD.
So what happened?
We had to get clearances. One thing about Charlie is he's been straight up and as 100 percent as you can be. He still has great relationships with most of the cats we dealt with back then. A lot of these cats still reach out calling him. He is just a stand up guy that did the right thing. But like I said, the complications of clearing it and what have you are crazy and expensive. It's a crazy game right now, in terms of stuff like that. It just wasn't cost effective to make it happen.
So does he still think about doing it in time?
Many people have to be taken care of and music has to be cleared.
I hear you, you right because Caz was singing off of Mc Fadden and White Heads "Ain't no stopping us now."
See, we shot on 3/4 videotape. But a little bit earlier in the same year we shot a Fantastic 5 party at the Ecstasy Garage. It was like a little test that we filmed in 16mm film to check the lighting and sound before we made the actual movie. But sorry to say, that footage is lost. Charlie pulls his hair out to this day about that. It's about a twenty-minute performance that was so hot but Charlie ended up losing it. It was AMAZING and an example of the Fantastic at their peak. But , their peak is on film in WILD STYLE!
As we went through that whole process of going to these parties, filming and meeting cats etc, we were deciding who we were going to feature and focus on and put in our movie. We loved almost all the groups getting down back then but Funky 4 + 1 was the only major rap group that had a girl. Sha- Rock, give me a break, just an incredible MC with the dopiest voice and flow plus she was THE flyest girl. I really wanted to step to her back then but I was so caught up in the movie and making art and all that.
You're right she is legendary….
Unique,
Attractive….
The vocals she had, the flow. Rodney and how he and the rest of the crew rocked the echo. The whole s--- was just unbelievable. But in the mist of what me and Charlie were trying to do, the break up was happening with the Funky 4 and this was literally while we were in the middle of the film.
See we shot a lot of the party scenes at a club called the Dixie, which was banging back in the early days, and was right up the street from another banging old school rap club called the Black Door club. Rodney C lived on that block. He was dating Angie Stone, now the well-known soul diva but at the time she was Angie B from the Sequence girl rap group on Sugar hill records. We would literally be hanging out at Rodney's house in between scenes, with his mom and his brothers. We were like a part of his family back then. Rodney C is a real cool cat. His story is really amazing with the way he flipped it and lived in London for several years after the movie came out and had a regular show on a major radio station there. Man, that's an interview you need to do!
For sure.
But the Funky 4 was going to be in the movie. And this is another little historic fact. The first hip hop group to have national exposure on TV was the Funky 4 plus one more.
Right.
Because when Blondie was hosting Saturday Night Live for the first time, I had got them so up on what was going on with this hip hop thing that Debbie Harry said to me, "Freddy, we can pick any group we want to come on the show with us and we want you to help us figure this out". I said you know Flash and them are definitely incredible etc, etc, etc, but I think it should be the Funky 4 plus one more, because they have a girl in a group of guys, just like Blondie. So she was like, "great idea" and the Funky 4 +1 performed on Saturday Night Live in front of millions of Americans. They did the song, "It's the Joint". Later, Rodney started asking questions about his deal with Sugar Hill records. He started to ask these questions louder and louder. He was beefing with Sylvia Robinson about getting the groups fair share of the money. Rodney was ready to fight for what's right. One day Rodney and K.K. came to me explaining what was going down. Rodney said he was trying to get the whole group to stay together and fight. We were shooting the film at the time and we were planning on featuring the whole group. It was a very sad situation, so I got on the phone and explained to Debbie and Chris from Blondie. They said, "Freddy, we will do what ever we can to help them, we will even let them use our lawyers". Debbie Harry was going to take care of the legal tab so they could be treated the way they were supposed to be treated. So we had a meeting and I brought the whole group up to Blondie's house, and they explained the deal.
So as Blondie's group is explaining what they can do for the Funky, right before your eyes you could see the separation that Sylvia created amongst the Funky! But Debbie and Chris told the whole group right there that the most important thing was that "you must stay together as a group and not to let them divide and conquer.
I'll never forget the day Rodney came up the block to the Dixie where we were filmed all the club scenes for Wild Style and we were preparing to shoot the "A to the K" stick up scene. Rodney pulled me to the side and said yo Fab, they decided to stay with Sugar hill and me and K.K. are stepping. I was stunned. I had to sit down. I said what? He said but yo I just wrote this rhyme about the whole situation. I said let me hear it. The rhyme went like this. "Here's a little story that must be told about 2 cool brothers that were put on hold….". You know what I am saying Troy?
I know what you talking about, the Double Trouble rhyme (Stoop Rap).
Hello. That was the original reason why the rhyme was written. So you listen to that rhyme again and put it into context of what I just explained about the group being split up. "They tried to hold us back, from fortune and fame, they destroyed the crew and they killed the name…"
When it first came out we didn't know what the hell was going on, but later on I started to understand.
They said, "They tried to walk on our ego and try to step on our pride, but true blue brothers stood side by side through thick and thin from beginning to end, this battle we lost but the war we'll win…." Man let me tell you I could have cried when Rodney said that rhyme to me. I will never forget, the way he ran the rhyme down that first time I heard it. I said don't worry about it Rodney, Double Trouble, is in this movie.
So let me wrap this part up, the creative process of making this movie Wild Style, was in many ways reflective of what was really going down on the scene at that time. We were bending molding and shaping what was going on to fit our bending, and flowing story. Also you see Rodney in that battle against Busy, because of that thing about Busy Bee and A.J. being down and how Busy B would always win the emcee battles AJ would promote. That was why Moe Dee went after Busy Bee like that at the Harlem World club. You remember what Moe said, at all these battles, the Celebrity Club, it is all set up before we come in. (Fred is laughing.) So we played that scene, and had Rodney like "wait a minute man, what's up with that, how did that dude win?" My character is based on A.J. in that scene. Then, we go off to the Alps short stay Hotel with the champagne and the girls to get BUSY. (Busy Bee's favorite hotel in his rhymes.)
Right, right, right.
So we weren't making things up. It's all based on what was really going on.
At that moment!
At that moment, right! That was one of the beautifulest' things about that process of making the movie, because literally we would be stuck saying how are we going to figure this out. And to answer your question earlier, it really wasn't like we followed the script word for word, scene for scene. We had an outline but the s--- was changing so much, so we are like the Funky 4 is breaking up, what are we going to do. Lee and Pink were literally having beef with each other, so we wove their lover's quarrels into the concept of the movie.
(Troy starts laughing.) I hear you kid.
She would be having beef……
I was just thinking that kid….how did their part start.
Yo, a lot of that was really, really based on real s---.
Now bust this did ya'll film any footage of the Funky 4 before they broke up. So ya'll could have incorporated it into the movie?
(A short pause.) Yes, at a party, but it wasn't for the movie. It was at a Roller rink and it was beautiful.
Contractually ya'll wasn't able to put that in the movie because of Sugar Hill records?
It wasn't for the movie it was mostly for our research before the movie. It was just like the video we did with Moe D, Caz and the rest of them guys at the Celebrity club.
Yo cats are amazed that I have something like that from 1980, they be wondering what you guys were using to film.
Well you know the cameras were real big and clunky, but it was ¾ video in that early 1980s format. But Charlie was connected to all these art and video/film cats downtown that had access to the equipment, and things of that nature. So we were able to go in there and do our thing.
So was he thinking about also adding that Funky 4 thing to his re-release?
There might have been issues with that footage as well. But that was the Funky 4 at their prime. It was nice and lit up right, and they were rocking the echo and all that .It was just a really good look. But because it was shot on video, at that time we couldn't convert it to film and all that once again because of the paper it costs. Also we wanted it to be incorporated with our story. Had they not broken up the Funky 4+1 would have been in the film.
So now how was the Furious 5 first in it and then they weren't?
Well that was an interesting story; we had a major technical problem with the sound, meaning we didn't record the sound correctly. We were kind of learning while doing, so we had bad audio from all these parties we filmed. Originally, we had Flash and the Furious Five as well as others at the big Amphitheater finale scene. I don't remember the whole line up. But all the audio was bad; it would not have made sense to release it. So we then had to re-shoot all the parties in the movie.
So that was the only footage lost was the amphitheater scenes?
Well the first versions of it. The best case scenario, if somebody came up with a fortune' we probably would be able to fix that audio. With the technology available now, almost anything is possible. We maybe would be able to salvage that audio, eq it back to life.
But listen to this Fred, that piece right there with out the sound is legendary. People just looking at it and you put another sound on it; the viewer would still be impressed.
Well you know working on Vh1 Hip Hop Honors, and this is before we got into the second version of it. I talked to Charlie about this, when I knew we were going to honor Flash and them. I said look Charlie, "I'd like to look into pulling some of that footage and using it for a few seconds, when we do the whole look at who they were back in the days. Charlie thought he had a piece of it. But once again that process is so expensive to go in and pull the negatives and the rest.
But when we re-released Wild Style several years ago we went back in and did a whole new audio remix.
Yeah I heard about Mardi Gras.
Yeah we had to redo that song Flash was cutting because we couldn't get the rights. So I found these cats that could create something very close to Bob James's Mardi Gras in essence, but a completely different song. That was the only thing in terms of clearance regarding the reissue in the film; we use very little music that wasn't ours.
So what's up with Bob James? That's a legendary movie for him, itself.
It's not so much Bob James, but who owns and controls the publishing. A lot of times people have sold all or part their publishing. So these publishing companies control the rights and what it costs to use a lil bit of their song. And they sometimes can ask for crazy amounts, and its different rates for movies as opposed to you wanting to sample it for a record, and these guys can be difficult at times. Also these companies have hundreds of songs and they are not clued in like we are to what's really going on, they're just looking at getting paid, a whole lot.
How was it for you working with the Furious Five, were they completely business minded, and how did they feel that their part was excluded at the end of the movie.
They were really big at that time. I don't think they felt that bad about it, because they were the biggest rap group at the time. Also they were at the peak of what they were doing. They were touring the world and making records, living like ghetto rock stars, and dressing like it. Sex, drugs and rappin on a mic! We wanted them because we wanted the best of what was out there. Once again the foundation idea for Wild Style was to have almost every body in the film be who they were for REAL and doing what they do.
Exactly.
With very few exceptions. We knew by doing that we were going to be doing something that was right, but our original aspirations were nowhere near as big as what this culture has become. We just wanted a movie that we felt was going to be able to play on forty deuce for a year (In Times Square) and that was one of our dreams. And I wanted to big up and show that the young people of color in this city were doing something very important and powerful. We knew 42nd street was where our target audience is going to come and this is where they hang out. We wanted to be up there among the Kung Fu movies and the horror flicks and the remaining black exploitation movies. (Fred is laughing.) We wanted to be right there, up in LIGHTS!
So bust this if you were able to get Furious 5 back on the film at that time, would that have excluded Cold Crush and Fantastic at the end?
No because we had them perform at the end also, at the amphitheater. That big jam was to feature the best of the best. We were going to shoot them all and chop it down. Because you know that's another interesting thing, which I talked to Charlie about, but once again it would be extremely expensive. To re-cut the negative is very expensive. I wanted to extend those performances, because we have a lot more footage. Those rhymes and lyrics and things that you saw in the movie were cut down. We had, 15 and 20-minute performances by everybody, easily. Because you know how cats did their performances back in the days, they did their routines and lots of rhymes.
Right
They didn't really do records, or I should say a group's show wasn't based on covering a bunch of hot 4-minute singles because only a few cats had made a few singles. Cats would just come on and do like 20-30 minute sets then the DJs would get busy. We weren't into the full time hip hop record-making era yet. So basically we had much longer pieces of performances and music. And I used to say, wouldn't this be great if we could use this, but it would require a great deal of money to use it as additional material on the DVD.
What part did you play in the sound track?
I was in charge of it all. I made all those original break beats that everyone rhymes to in the movie
Now what did you mean when you said you put that sound track together?
Charlie and I felt that we might have problems later and sampling wasn't even a part of the game yet. There used to be this industry myth that you could use 10 or 12 seconds of a song before you had to pay the piper.
(We both start laughing.) I forgot all about that until you mentioned that.
So that is one of the things you would hear about in terms of what you can use, etc., etc. but we were cautious. At first my vibe was like, f--- it, this is an underground independent movie that's just going to play underground and on 42nd Street…. lets just do it.
….lets take a hit and see what happens, right?
I mean there wasn't a precedent. Rap music then was like, nobody had figured how to sample yet anyway to capture the essence of what the DJ's were cutting and scratching. The biggest rap records were on Sugar Hill and Enjoy and they had bands replaying the s--- that was hot in the streets. Songs like "Freedom", "Good Times", "7 Minutes of Funk".
Freedom never really hit crash Crew for their record High Power Rap. Disco Dave and his brother Mix Master Mike went into the lab and mix it down 1000 times. I am exaggerating of course, but they actually cut the Freedom cut over and over, spliced it to death. As far as I know they never got hit for that.
Well…hum…some deal might have been made, who knows. But…
Well Dave and Mike won't give me their story yet, so I can't find out about that part.
Well the reality of cats getting hit were the ones with big records a little later on like in the late 80's and early 90's. When rap records started to get really, really big. See those records might have sold decent numbers but I don't think they hit Gold or multi Platinum status.
Well what it was, was she never let them know…rather ah… they pressed that their selves! Then they found out somebody in the crew was stealing. So they never knew the exact amount of records sold.
I see.
But even to this day that record sells.
There are probably other songs that have come out as hip hop got really big but basically, it didn't get really serious until Biz Markie got sued and lost. There would be situations were cats were threatened and your lawyer would tell you to settle, but not until Biz caught that bad break with that Gilbert O' Sullivan record, and they found him guilty. Then that made it like a law. It created the whole idea of the sample clearance business.
But how did you put this together? I mean you started the band, you said this is what I want? Did you play any instrument?
When we agreed it wasn't a good idea to use other peoples music like DJ's did, I said I will do it. But I am thinking, "How am I going to do this?" So I came up with this process. Their was this white dude name Lenny Ferrari (Fred starts laughing.) who was one of the people that I met on that Down Town scene at TV Party. He was a white guy that played with a lot of Punk groups, but he loved black music, James Brown etc. He worshiped that original Soul sound. So he listened to those records and knew what those drum patterns were. The ones Flash and Theodore and them played. He studied all the classic black groups and drummers and said man I know how to do this. So my whole process was I started with him and I would hum out these beats with my mouth, kind of like beat box style.
Right.
I would hum a drum pattern.
You didn't take from the other known break beats?
No, no, I didn't take from break beats. But I did have them in my head, so I was like, I know the tempo, then I would hum it to him and he would play it and he would play something that sounded like what I was doing. Sometimes I would say do this and do that. Then he would lay these drum tracks down and we recorded it at this extra cheap super old school recording studio next to the Beacon Theatre on Broadway. The board was so old it still used the glass tubes instead of transistors! I first recorded all the drumbeats. Then I got this dude that I knew at the time who use to play with a lot of Philly groups named David Parker. He played with groups like First Choice…
I remember them.
I had him lay the bass lines down that I also hummed off the top. Then I went to Chris Stein from Blondie, and told him what I was trying to do, and he had heard some of the hip hop tapes I turned him on to and felt the vibe. See I didn't have break beat records, I had the tapes of parties to use as examples. So I would let them get the feel and the attitude of certain records. You know those weird, obscure break beat classics like, Apache. There was probably only one store if you remember at the time selling what we now know as break beats records. The record shop called Downstairs Records, which was in the 34th street train station.
Right on 34th street before it went to 43rd street and avenue of the Americas.
Exactly, first in the train station of 34th and then moved to 43rd street. (Later on 40th street and 6th avenue).
Well I played these beats and my man Chris from Blondie, he had all these new guitars with these sound effects, so he added a few effects here and there on to the records, you know what I mean? He played some guitar and changed up the sound on each one. Then he added some more sound effects.
So how many cuts did you have?
There are about 12 cuts to that record. I made them all be about 2 minutes long, because this would only be something a d.j. Would play, mix, scratch and extend.
Right, right.
And recreate and replay based on their needs. That was what the sound track for the movie is based on. I remember being in the studio with Chris and some one said always records the bass and the drums at the same time. I was like you know, I never knew that! There were a couple of points when they were out of phase.
Right.
Some times a drummer will go a little a head of the beat. But that's how we basically got through all that.
So now you had to explain your thought to Theodore how you wanted to put the sound to all the groups?
Well, I remember the first mishap was, we thought we weren't going to have to press up vinyl. We thought we were just going to be able to make acetates. But the acetates were something you would get before you cut the plate to make the vinyl ….. I am trying to remember the whole process because it is so old school when I think about it. You made your master, you know they were `¼ inch mix down from the 2 inch tape, and from the mix down an acetate is made. If you approve the acetate, then I think a metal plate is cut and then from that the records are stamped and pressed into vinyl. But I thought the acetates would work for the DJs to cut a scratch. But these kinds of records are much heavier then the actual vinyl. It's a thicker, heavier thing. Basically when we came to the d.j.s with these acetates they were not able to manipulate them like they do vinyl. Too damn heavy.
Right.
So I had to go back and order up the minimum, I think you had to get 50 to maybe 100 pieces of vinyl. I actually wrote all the info for the records by hand, graffiti style on a white label.
What, you had to order up all that just to get a cut?
Yeah because that was the minimum, when you went to the pressing plant there was a minimum. This was a crazy low budget production you must remember. They felt why should they go through all this process, just to make you a few pieces of vinyl. It turned out to be good because a few more cats got their hands on the records. What made me feel so good; not knowing that the movie would become a cult classic like it did, but cats that later became record fanatics could never figure out what were those records used in Wild Style making it among the rarest music in hip hop and the first break beats made just for DJ's and MC's.
Right, because I never heard them at the paries.
And that was great. I never realized that it would have that kind of effect.
And that's all yours?
Every one of those beats was completely original created by me.
That's your entire work, all your money on that?
That's right!
I hear that.
I mean it's owned by me and Charlie and the others on the sound track. But I wrote the music.
So did it become so popular that you had to press it and put it out?
No, well a couple things happened. Of course I remember going into the late 80's it became an obsessive thing for cats to figure out how they can get this record. I remember meeting Jazzy-B from Soul to Soul, when they were the hottest group in the world at that time and Jazzy was telling me how he had found a space on the sound track album and he looped a chunk of "Down By Law" extending it and then pressed up a few copies Jamaican Dub plate style to spin on his sound system in London.
He didn't need to ask you for permission to do this?
No, he wasn't like selling or bootlegging. I didn't come at Jazzy like that because we were tight and I was feeling his energy. But after awhile we did have to go after mad cats for taking our s--- and make they labels pay up.
So in the end you did track cats for yours?
Oh no question, Nas used it on his record, the Beastie Boys. Many cats did. Nas first album, the classic, "Illmatic" opens up with the scene from Wild Style where Zoro's brother home from the army disses his art. Nas freaks it like he's the kid his brother is dissin.
So now you take the record to Theodore and the other D.J.s…
I took the record to all of them, Tony Tone, Charlie Chase, GM Flash, GW Theodore, DJ AJ, and I sat down with each and I play them all the songs. I let them know they all were going to be in the movie and told them they had to pick different songs for their MC's to perform to in the film. I told them to work their routines out, based on the songs they picked thinking they would pick a few different ones. The whole idea was to recreate what hip hop d.j.s did, which was to cut and mix different records and create the routines that they did at that time. But what happened was as I gave it to Flash and Charlie Chase and them, they started to work on it. These DJ's were all friends and cool with each other so they would know what each other was doing and playing so each could stay up on the others. After awhile all off them wanted to do their routine off of one song. "Down by law."
Yeah the same record, that's what I was just thinking. I remember I used to say what the hell is this, why do I keep hearing the same record, where is everything else at? But I understand now.
Then we had Caz come in on the……
The eerie joint he did when Lee is riding on the train trying to figure it all out.
We came up with the idea of the Caz song in that scene over another one of those beats to help you understand exactly what Zoro's character was all about at that moment like his conscience is speaking to him.
Right, instead of the same one over and over.
Right that was the purpose of creating original music. (Fred starts humming the sound.)
So where did you get that sound from, what was your thought pattern for that one?
Well to be honest it was just a combination of all these different beats I heard at parties. I didn't have specific songs for inspiration, but something I thought DJ's would love and a sound that was different and if you will, a little strange and gutter.
Those were the records that would draw you to the park and street jams as you were walking through the hood and you hear that beat. You'd be like what the hell is going on?
Come on! The most amazing thing is you couldn't hear these records any where else.
Tony Tone (aka Tony Crush of the Cold Crush Brothers.) told me that one day. He said he went to a Kool Herc Jam and he heard these beats and it was unbelievable. I asked him what was the issue did he feel these beats were dated? He said No the s--- was the Bomb, He had never heard it before, except at a Kool Herc party.
It's funny because it's just a thing that music does to us. It speaks to us in a way that's sometimes really hard to articulate. It's just a feeling that you get, and the feelings from those records were the perfect sound track to what was going down at that time in hip hop music. The attitude and vibe at a lot of those early parties was a sort of tribal hood celebration meets war party because the young soldiers would be ready to dance and got to war all in one swoop. The edge was like a jagged razor blade. Sharp and deadly. Remember, "A to the mother fuckin Z"
I hear what you're saying.
The cats that ran the parties, I'm talking about the d.j.s and emcee's, they were by comparison the nice guys. But some of the roughest elements in the illest ghettoes of the city were the other people at these parties. Murderer's, hustlers and stick-up kids want to have fun too you know.
Right the ones that were lurking in the back ground, plotting to jump on its prey.
Nucckas was ready to just bring it at a drop of a dime, 52-block style. I mean you could just feel that energy, fun mixed with a little danger. It's hard to describe. And it really doesn't exist any more in the same way. Young kids talk that talk but couldn't take the first step of that walk. They want to run home for they mans toll as soon as someone smack a little fire out they ass. I mean when was the last time you heard about someone getting stuck up for his or her coat, sneakers or Cazal glasses? Aiight, cats get got for they jewels here and there but over all it's different game today. I call'em, playstations cause they just playing games. Good guys vs. bad guys and they all want to be sooo bad. There's more shootin and killing in some of these cats lyrics then what's happening in Iraq.
Right, so many have changed for the better, or just trying to be more sociable.
Right, they changed for the fact that change is inevitable.
You can see through a cats eye that "that n----- there ain't s---, let me stay totally away from him, but watch him closely."
Which was the reason cats had that B- Boy stance back then Run DMC rapped about.
That's right, step back…
And that hard rock ice grill expression, standing with your arms folded, feet in a V position. (Troy is laughing.)
You hitting it right on the head kid.
Because that look right there was……
"Don't f--- with me money."
Yeah, so you needed to be in that same position because it looked cool as hell and you didn't want to get stepped to, just chill and enjoy the party, not get stuck up for your sheep skin coat or your British Walkers.
So slow down for a minute since we talking about this, what made you put those two guys in, A to the K? What was their story?
Those two guys lived in the area, local cats. We were up at the Dixie Club up by Boston Road. They were just like most cats hanging out trying to get some light and some love. "Yo, y'all should throw me up in the movie." Just like anybody else in the hood would say. So when we were out their filming, this is another example of how improvisational the movie was. These cats just happen to be there. So Charlie was like, "o.k. we will use these dudes, what do you think Fred?" I said, hell yea, they official! So Charlie had some little gun they were supposed to use in the scene that looked like the toy gun it was, type fugazzi garbage. So dude said, "y'all trying to use that fake looking gun? He said wait, homeboy went to his car and came back with a sawed off pump. Charlie was like, o.k. "lets use their gun." (Fred says it sarcastically.) And on top of that we'll use your right hand man also? These were them real n------. So one of the most favorite lines for so many Wild Style fans is them cats just did there thing. They were on automatic, we didn't tell them what to say.
Right, right.
They were like o.k. This is how we do this s--- for real, and his man said, "A to the K, A to the K, A to the mother f----- Z." And I don't know what that line means and trust me, hundreds have asked.
What the hell did that mean, everybody said the same thing. That must have meant something to them. (Troy and Fred is laughing.)
When they said the s---, we were like "yo that's it!"
So what became of them?
From what I understand they're both dead. You can get a lot of good little info about behind the scenes tales from the new DVD. Play the bonus audio track, and hear me and Charlie break it down and do a lot of reminiscing about how we made Wild Style like I am doing now.
Those A to the K brothers, were they being a problem while they were there on the set, also were they there all the time or just that night?
No problem, they were just hanging around. Like I said, we were shooting there a lot, we had a bunch of scenes that we shot in that area. And a movie is not shot in sequence. But they were there basically every day because they lived in the hood. The way we did Wild Style, knowing that we were working with none actors, me included, we would just give cats the idea. Instead of saying read this and memorize the lines. We were like here's the idea. "Your about to stick these people up, what would you say? "O.K. I would say it like this." (Fred mimics a gravely voiced thug.) O.K. boom, that's what you say. O.k. you ready? Action! Let a dude be comfortable and just go on automatic.
So now you said you took the top groups at that time, why did you not include say Bam and the Soul Sonic Force, or the Crash Crew or even the Treacherous Three included in the story line or just in the movie?
That's a good question.
Especially Bam, or Herc?
Well Herc we didn't have contact with at that time. At all the places we went we definitely heard his name, and knew who he was. Bam I had met at the T Connection…and as I get on this roll talking about this, this might have to be a 2-part interview.
No problem.
I brought Bam down town to that East village scene. One of these art shows in the east village was about to happen, and I met Bam earlier at a Bronx River jam, so this night I reached out to him and invited him. Also there is another thing I want to point out in my whole involvement and development with this culture was, whenever I would get to the d.j. no matter if it was the illest park jam at or a party, whether uptown, downtown, Brooklyn, Queens, whatever. When ever I got to the d.j. and engaged him in a conversation, they would always make me feel like I had a lot in common with them, because I could immediately see that these were smart thinking cats. It made me feel so good that I took the time and effort to do that, because there was some intimidating s--- going on at these parties. You know you had to be in your b- boy stance and n------- be ice grilling hard. You was either trying to catch a freak, or trying to figure out what the d.j. was doing. So when I got up to the d.j. I used to say to my self, "these guys seem smart and intelligent." It gave me a lot of encouragement. Because I'd be wondering who started this. When I was in Brooklyn I would see cats scratching a lil bit and even though they didn't have it down pat, I was asking, "yo, what's that all about, and where is it coming from?" BK DJ's called it that uptown sound. When cats in Brooklyn said uptown, we meant meant Harlem and the Bronx.
Exactly.
So that's what us Brooklyn cats called it because it was different. And like I told you, I was that exploratory cat that said yo, I want to meet these dudes who started this and give them props for being geniuses.
So did you and Bam become real close once you brought him downtown?
We got cool, but at that time the city was more polarized back then around race. It was a lot iller, it wasn't a great deal of people of color mixing it up downtown. Like I would be one of the few black dudes in the crowd. Me, Jean Michelle Basquiat, and a hand full of other's were the only blacks almost everywhere I went on that down town scene. I wasn't trying to be white, but I was just trying to make my moves ya dig? Cats were listening to me and taking me seriously. Bam was cool with all this, because when I told him right off the top he was with it. He was like yo; I got other types of music and would love to play for a cool white punk new wave white crowd. He said Fab I'm into a lot of different s---.
Exactly.
He said he would love to play for some people that could really appreciate some of his other types of music. So that was the genesis of that. I hooked him up with some gigs down town for pretty much all white crowds at spots I had juice at. The Mudd Club, another was Club 57 on Saint Marks place and The Jefferson, which was on E. 14th Street. He came, played and loved it, and got to pull out his "Monkeys", Rolling Stones and David Bowie records!
(Troy starts laughing.) Yeah he used to rock some wild jams up in the Bronx.
And it wasn't like he had to play them hip hop style; he could play the whole record.
Yeah, I'm sure they would tell him let it play.
Right, let it play. He had every James Brown, every P Funk. He could mix it up real good and playing at those downtown clubs inspired him to go and make, Planet Rock.
.
His emcees were not that dominant, although Pow Wow was pretty good, I enjoy listening to him as well as Lisa Lee.
Right, but when they made records…
To be honest, they didn't even seem like they were doing hip hop.
In a sense….
It was hip hop but a little different flavor.
Yeah, once again it's interesting because with Bam there are other groups or crews that were down with him. Like it was the Soul Sonic of course…
Cosmic Force, Jazzy 5…
Right. The Jazzy 5 was my favorite, because they made the Jazzy Sensation jam.
(Also the Funk Machine were apart of Bam and the Zulu Nation with Afrika Islam, Donald D and Kid Vicious.)
Now what about Moe Dee and the Treacherous emcee's, didn't they have a spot on there that was supposed to be bigger then what it was? L.A. Sunshine told me that they were supposed to be in the movie as a whole. But on the way to the amphitheater while driving in a car Special K a passenger, seen his girl on 125th street and jumped out the car and told the crew he would meet them down there. He never got there that night.
Yeah, Moe D is there with LA Sunshine and they get on the mic at the end of the movie, in fact La Sunshine has the final words in the film thanking everybody for coming to the party. That was all happening on automatic and that's what we wanted with Wild Style.
I always wished that you would have shown more of that.
And that was how it literally ended, it just took its own life, cameras were rolling and Moe Dee said everybody just jump, jump, jump! Other groups, a lot of them had come down to get busy. We might have let another group or two touch the mic at the amphitheater jam, but once again we had to make cuts, we were focusing on a couple of groups.
Now how did home boy get on there, the one with the shot gun? At the time I had never heard of him.
That was one of my protégés. He was doing his thing in the art world like I was at the time. His name is Rammellzee.
Right, right I later heard about him.
He had that Brooklyn emcee vocal style. Brooklyn emcees had that certain dramatic vocal style. A lot of character in their voices.
You mean like that radio disk jockey style.
Right, like your man Kool Kyle called it, "that Hank Span, style". (Fred then emulates that style) Brooklyn cats emulated that and the best example of that is Super Rhymes aka Jimmy Spicer.
So Ramellzee supposed to have gone up against another brother named K- Rob on this album they did together?
He was like my protégé and I introduced him to all my cats in the art scene including Jean Michelle Basquiat. Jean loved him and produced the record Ramazelle versus K- Rob. He gave it that name to make it seem like a battle but it was all love.
Who's K- Rob?
Another young cat from the lower eastside who was in the mix at the time who also rhymed. Once I set it off on the downtown scene, people really gave me props for bring hip hop to that scene. It all began when I brought Bam downtown to spin at those first parties and art shows. The biggest was the "Beyond Words" art show I curated. Bam and other groups came down to perform for me like, like the Fantastic 5, Jazzy 5, and Busy B etc. These jump offs all lead up to the Roxy happening. As well as Blondie blessing me on her record, which lead to Flash getting blessed as well on the same song. Ramezelle didn't really know from nothing but he wanted to make a record, So Jean Michel put him on. Jean was also swinging with Madonna for a minute and she was hanging around our zone. She made her first records then. We were like all hanging in the same down town click.
How did you feel when Jean Michel passed?
It was tragic; he was stuck on them drugs. Coke and heroin.
So were you still running with him by that time, did you see him change before your eyes?
Yes, it went from chipping in on a trey bag of weed and sharing a loose joint to him walking around with an ounce of weed and thousands in his pocket. And he was a very generous fun loving hard living cat.
The other movie that was like his bio (which I am really digging.) did they come to you for help on, and why was there no character playing you.
Of course they wanted me to be down, that film is called Basquiat staring Jeffery Wright. The guy who made that film rewrote history a little bit. He was a major artist on the scene during that time when Jean was alive and there was a bit of a rivalry between him and Jean. He was like, "I'm the best artist on the scene right now". Then comes this young black artist out of nowhere, nipping at his heels, at the highest level of that game.
Right.
And Jean was new at it, and homeboy is like "who is he?" So right after Jean dies he gets obsessed with telling the story and I am saying, "what's up with this"? My feeling on the Basquiat film is yes, he did rewrite some of my mans history and some call it creative license. But you know when some one is close to you like that and somebody is telling their story and they really do things that are not at all how it went down, you're not going to be happy about it because that was your man.
You are exactly right, because I want to know the truth myself, and I thought that was.
But on the other side of that coin, he opened up a lot of heads up to what Jean Basquiat was doing.
For sure.
Jeffery Wright's performance was so uncannily close to Jean.
Ain't that something? That's like the lord put his hand on that.
Yes, like Jean channeled himself into Jeffrey, like on some cosmic next level African Shango black s---. When I met Jeffery it's like this vibe, and he knows what it is. As far as I am concerned the movie was over all a good thing because it opened up a lot of people that didn't know anything about modern art to his work. If they get open and do some reading and research on his short life, they see he was my man and they ask me questions about him wanting to know and understand. That's a good thing.
So this guy that did the movie he never came to you asking your input?
Yes, he wanted me to be down. But I questioned why he wanted to do this when they were more or less going at each other? They were cordial to each other but they both let other people know that they don't give a f--- about each other and they were ready to gobble each other up. They both felt like neither of the two could mess with the other. The bottom line was I wasn't going to get down with the movie, I could go on and on about things that were not accurate, so I left it alone. The original Basquiat movie called Downtown 81 written by Glenn O'Brien is the one I put Kool Kyle in. I might have met him at the T- Connection. I felt he was serious and talented meaning someone who would show up!
Everything worked out, but by the end of shooting Downtown 81 one of the main investors got into a big scandal over in Italy. Although he put up a couple hundred thousand, he had millions of his paper get jammed up in a major scandal, so that movie got thrown in a ware house and was sitting there for like twenty years. So this other dude makes the movie Basquiat, His name is Julian Schnabel. When his movie comes out and does pretty well, people that really know Jean and the stuff I am telling you are like, "yo, we need to find the movie we did which is originally called "New York Beat" and try and put it out". So they go to Italy to try and track it down and they dig through these warehouses and eventually, find the movie. They find the negatives but they can't find the dialogue audio. It wasn't a lot of dialogue but everybody in the movie was still alive except Jean. We all came back in and dubbed our voices. During that period we are trying to track this dude Kool Kyle, who I haven't heard a peep out of in all these years. Since we couldn't find him we used Mele Mel. Like Kyle said in his interview with you, Mele matched up well. So the Jeffery Wright movie made this movie hot as a companion piece, because now that he is long gone, he is still a legend and his work is worth millions. A painting sold at an auction about three years ago for 5.2 million dollars.
Does he have family members receiving that?
He has an estate, his fathers in charge. There recently was a major retrospective of his work at the Brooklyn museum that traveled to LA and then Dallas.
Does he have any children?
None I know about.
Downtown 81 would have come out around the same time as Wild Style?
Yeah, you are right, it was made around that same time.
You would have been a bad brother, with two movies at the same time with you in them.
It would have been interesting but they were both low budget independent films.
Yeah but still a brother from around they way, come on.
Yeah it would have been a great look but Wild Style was for a specific audience. Downtown 81 would have played in the underground and in the village.
Right.
It would not have made forty deuce.
Why did you pick Hip hop over music coming from Larry Levan and those cats in the Garage Club? I mean you were very popular their as well am I right?
Well I was hanging at with Blondie one night and we went there and it was a lot of gays there, village people types. I was not feeling the vibe. Once again I am with them and Blondie was there for a party so I'm hanging. That was my first peek at the Garage. But a year or two later, around 1980 there was some friends that lived across the street from me in Bed Stuy that started to party there. They told me that Friday was the night for straight people. Now the secret about the Garage was that the girls that went there were the most open minded and freaky hotties you could find any where in the city. If a chick sees how you were handling your self and your straight it was a good look and I bagged a few gorgeous dimes.
I'm glad I went because I got to see where all that dance, house and techno music came from, DJ Larry LeVan. It was next level with the lights the sound the music
So you got caught up in there on the regular, like every week.
Nah it wasn't like I was a regular there every week, because you needed to be a member….
…Oh I thought you was a big fan of the spot,
I had good times there but I wasn't there every week. I would go to the Garage when a record was hot, say a song like, "Don't make me wait," by the Peach Boys, or "Din Da Da," by them German guys. Those records would only be heard at the Garage. They would play the top record at the Garage, for lets say, months. When that group would make its debut, the first place they'd play would be at The Paradise Garage. That would be a BIG event, like when Grace Jones had her joint out, "Slave to the Rhythm" or "Pull up to my bumper." Or some incredible record of that era, the first time you would see them after hearing it for awhile would be The Garage. Those were the nights I would go out of my way to really go, because it would be a major event.
So did you also become close with these guys up in that spot like Larry Levan?
My buddy Keith Haring from the Art scene got in and in turn he got tight with Larry and that whole inner circle, and one night he invited me up top to the balcony which is like a V.I.P. section where Larry played his music. It was amazing to see what he was doing because you would be downstairs only imagining what was going on up there because he played the hell out of the music. I'd be like, "I heard this record before but how is it sounding like this?"
I know what you're saying because I have one of his tapes, and I heard that same thing.
Yeah, so when I got to go up there I got to watch this dude and see him work, and I was very impressed. Also to hear his sound system there is nothing you can compare it to. I'm sure you know the story about the legendary Richard Long. He was one of the great architects of sound, who built amps and speakers etc for the top clubs and DJ's of that era. Anything made by him was like a benz or a Rolls Phantom car to those who knew the deal back then. He was an audio engineer with a PhD if you will. He constantly tweaked the system at the Garage, his favorite, to the point that he built things that hung off the ceiling, and it would bounce the sound around in certain patterns. I've never experienced a sound system like that, ever. Every six months or so they would do something major, were they would shut the club down so he could make it better, with lights, sound and re decorating.
What was the exact street again?
It was King Street between Varrick and Hudson. It's a FedEx garage now but it should be a landmark.
There's nothing over there any more its two or three blocks away from Hudson River. In fact S.O.B.s is around the corner.
You right, S.O.B's is around the corner from where it used to be. But to walk up that ramp to go to the Garage back then was a great experience in sound and entertainment.
But with this Graffiti thing you were the one to first bring it down town?
That's right, the first to put an intelligent flavor and face on it, mines. But there were others that were interested in it as an art form, and tried to do things. But as an individual painter that had kind of studied up on art history on my own I went out and basically went for it and I found people that accepted me and what I was doing and exhibited my work and stuff like that and that opened it up for other people to come and get some love as well. Futura 2000, Lee, and many others like Crash, Daze and Dondi.
You were cool with all these guys?
Yeah, no doubt, because I was the one that set it off for everybody. These cats had read about me and seen articles about me etc., etc.
and I wanted their dudes to come be a part of this. I wanted it to be a scene where people can experience other cats. It was just me, but other cats that came from these cultures that had intelligence that were creative, and also could represent themselves and this thing amongst these other people. So it just started to take off for a few others. Other dealers from Europe came over and got into the work. Cats got to travel the world.
Do you see a major difference in European graffiti opposed to American graffiti.
Nobody was doing it then so that wave that I was apart of introduced it to the world. So that became their text book.
But today do you see a difference or are they pretty much similar to Americans?
Its all based on rules set here, but at the same time graffiti in New York was developed under pressure, like n---- you got X amount of time to sneak into this tunnel and into to this train yard or tunnel, do it and get the fuck out (Troy starts laughing.) in sub zero weather with out getting caught. That was apart of being nice at it. Then you had the balls to go repeatedly into that tunnel or yard to do your thing and cats was respecting you for that as well. Plus you had to have the ability to steal humongous amounts of spray paint to execute that.
This is most likely my last question, why is it on MTV of VH1 when they do shows about old school hip hop do they start at RUN DMC? Or they just give little shout outs to the Furious 5, why don't they go further back to Kool Herc and the Herculords, Cold Crush 4 etc. and give more than thirty seconds of fame?
Well with Hip hop honors when Fat Joe joined the Furious 5 to fill in for Cowboy that was the format for that. The format of Hip Hop honors is to combine the artist then with an artist now. The artist have input in that also. So we explain the structure and this is how we can bring in other viewers that never heard of these cats and also it is a business and it has to make paper.
I thought that as well, but was there ever another way to bring Fantastic 5 and other such legendary cats from that era. Such as that video we both have at Celebrity Club 1980. Or why wasn't Theodore at that thing.
Well that situation with Theodore was beyond my control. I had asked him to be a part of a performance but because of a miscommunication, another artist who we thought was unavailable popped up at the last minute. But trust me, he will get his due. My job is to make sure we try our best to get it right. Can we make everybody happy and feature every single pioneer at once? No. But the intention is to be able to keep doing Vh1 Hip Hop Honors and we will get to everybody. I'm sure there's many and you know them all Troy who feel like, "hey, I did this, I did that, how come I'm not there getting honored? But now that you've seen two versions of the show, and I know you really love hip hop and you loved the show, just understand that our formula got a great rating. We're working on the third and hopefully this show will go on for 20 more years and many more will get a chance to get their props.
I totally understand that, I was telling one of my people that Vivica Fox was on there and we knew why, which was to pull in more viewers.
Exactly, it's a game and you have to understand how it's played. Then you have to try and manipulate those rules to make it work while doing the right thing. Because there are a lot of viewers across the country who believe it or not don't even know who Run DMC are!!!
Now this is what I would have thought of, you got Vivica Fox there; let's have Pebbly Poo, Sha Rock and Lisa Lee stand next to her, as well as maybe Missy Elliot or Queen Latifah, for that look.
…….if you really look back at it, Vivica didn't do that much on the show. And another little known fact is how Mos Def was going to co-host with her but he backed out at the very last minute and trust me, that was not a good look. But your right, Vivica grew up loving hip hop and brought her fans to the show.
Damn Troy, we've been talking for a while and I didn't even get into my record, "Change the Beat", or my time doing YO! MTV Raps, or being a part of the first real hip hop tour to Europe and Japan back in 1982. And we're busy now putting together Hip Hop Honors 3. I guess this is like part one….the story must continue!!!
Thank you my brother Fab 5 Freddy.
No problem Troy. Peace!
I must give props to Fred his phone was continually ringing while this interview was going on but he would not stop giving me this interview. As well I kept milking it thinking sooner or later he was going to have to tell me he would have to get back to me later. Fortunately I got the story, stay tune for Jayquans part 2
Praise God and God bless you.
Troy L. Smith from HARLEM, with my son's Troy jr. and Shemar L. Smith
I want to thank my man Earnest Woodson who owns the Masonic barber shop on 130th street in and Amsterdam Avenue in HARLEM, he put me on to Fab 5 Freddy.
I also want to thank the very knowledgeable family at www.Oldschoolhiphop.com who contributed to this story. If you want to know more about hip hop go there. Peace